Wowser! Blowing Rock CC car show hits on all cylinders | Blowing Rocket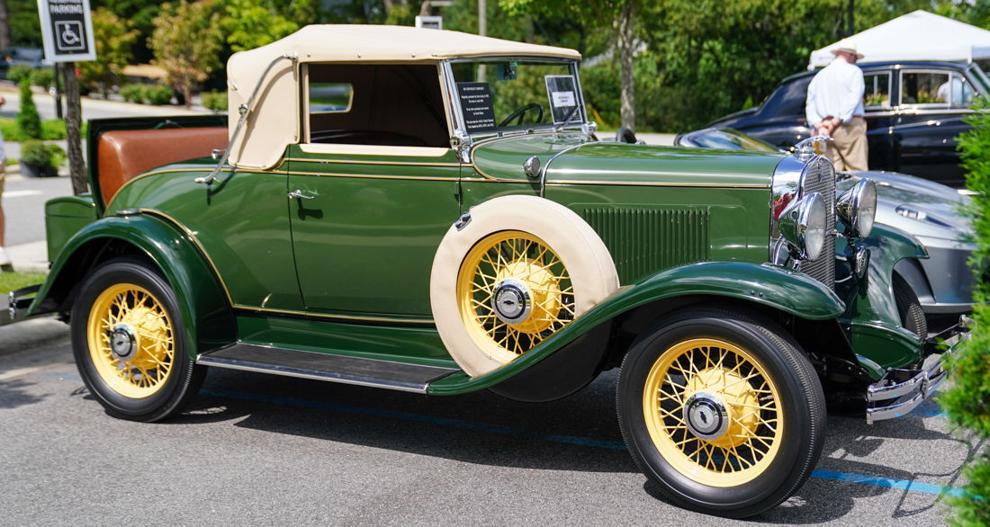 BLOWING ROCK — Walking around the Blowing Rock Country Club's annual member car show on Sept. 4 was like being astraddle time, one foot in the classic past and another in the racy here and now.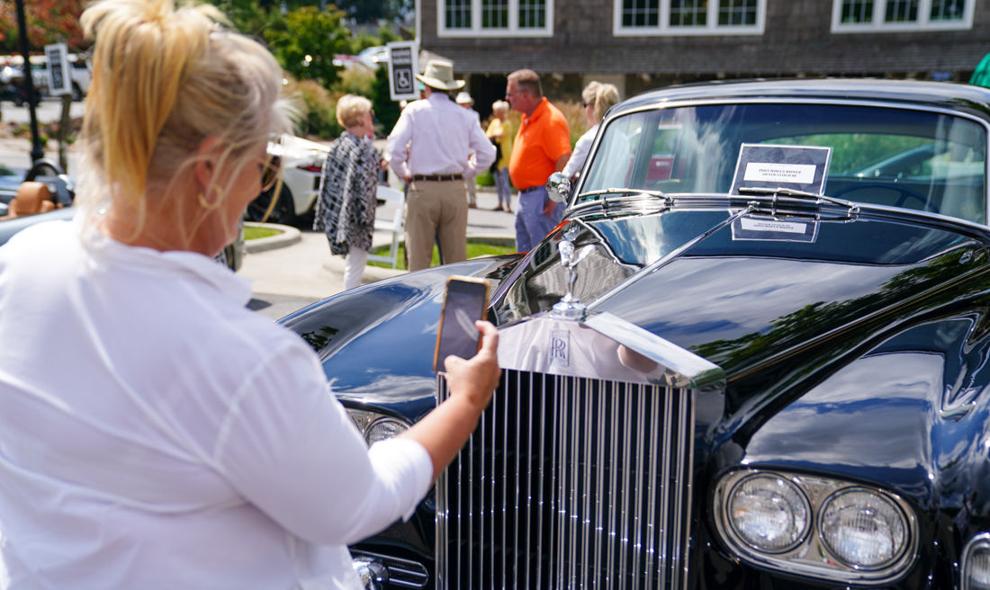 That the BRCC had assembled almost 30 "collectibles" owned among its rank-and-file members was not lost on the many townsfolks stopping by to admire them.
Blowing Rock resident Chip Perry, a founder of AutoTrader.com who is well versed in all things automobile was quick to point out the significance of the event.
"Especially for a country club this size," said Perry, "this is about as impressive of a member collection as you will find anywhere in the world."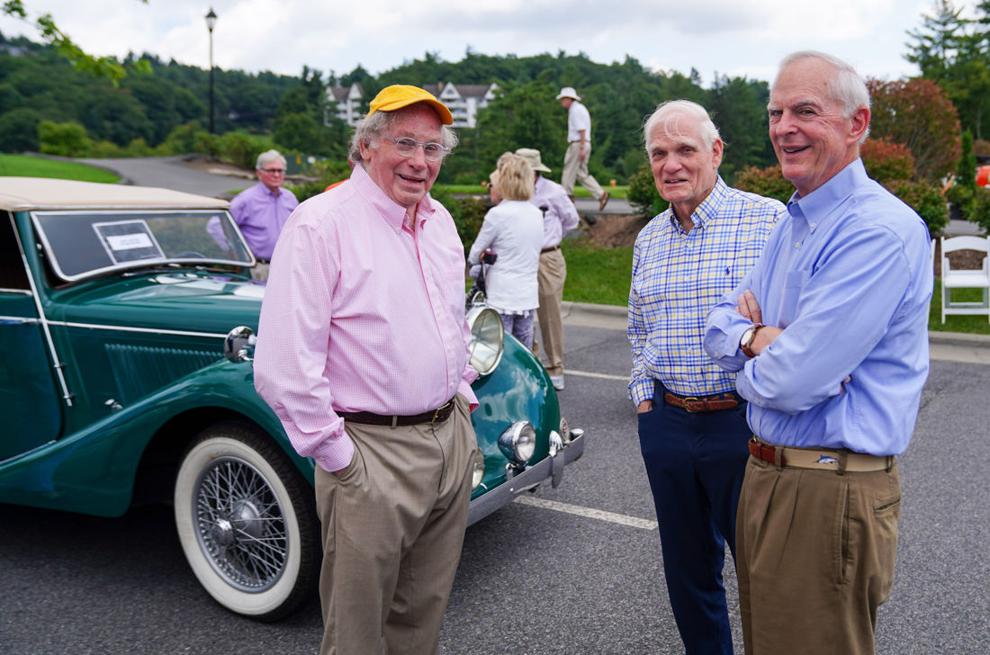 Some of the car owners, like Perry, are serious car collectors. Perry's "car barn" in Blowing Rock has emerged as a popular spot to host fundraisers and he and his wife, Monica, have graciously opened their facility (and robust car collection) for many such events.
Others among the BRCC crowd have single car favorites they mostly keep garaged and bring out on special occasions — or maybe just to tool around in on the weekends.
Perry had two entries in the show.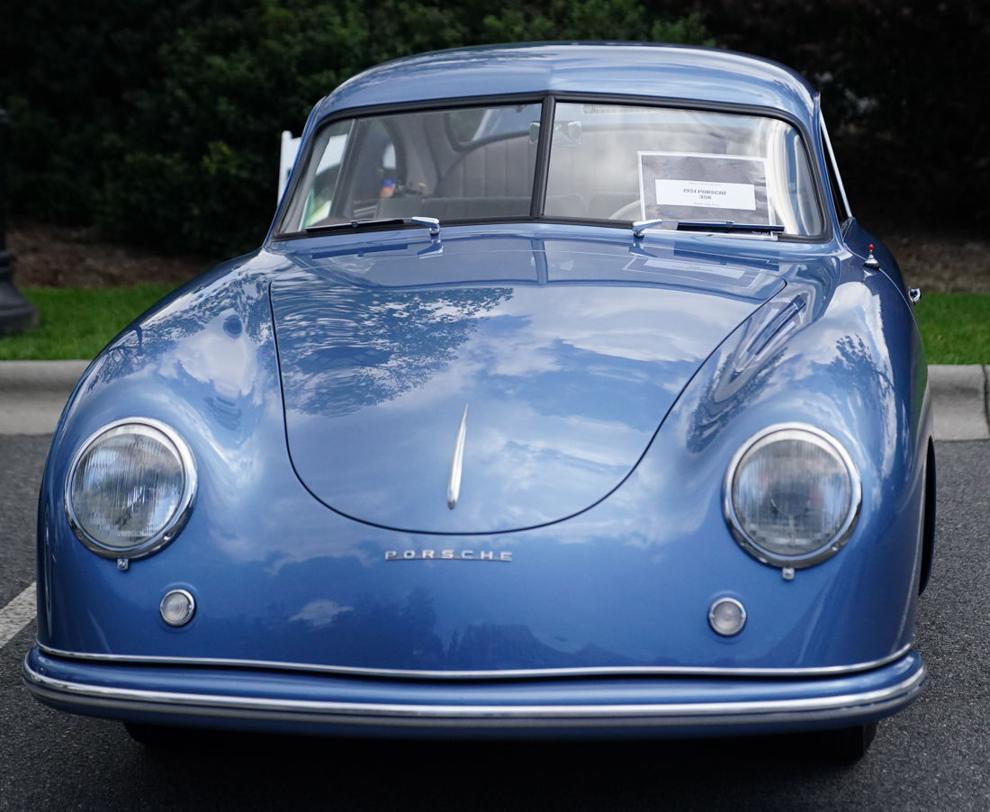 "I have two German cars here and they have common DNA roots. The mechanical designs were created by Ferdinand Porsche, before World War II. His son, Ferry Porsche, started building the 356 Porsche in 1948. This car was built in April of 1951. There were only about 550 of these cars ever built, so this is one of the oldest Porsches that anyone will ever see in their lifetimes. It has distinctive features, such as the split windshield in the front, which they discontinued in 1952. It has a bumper attached directly to the body of the car instead of separated, with a bracket," said Perry.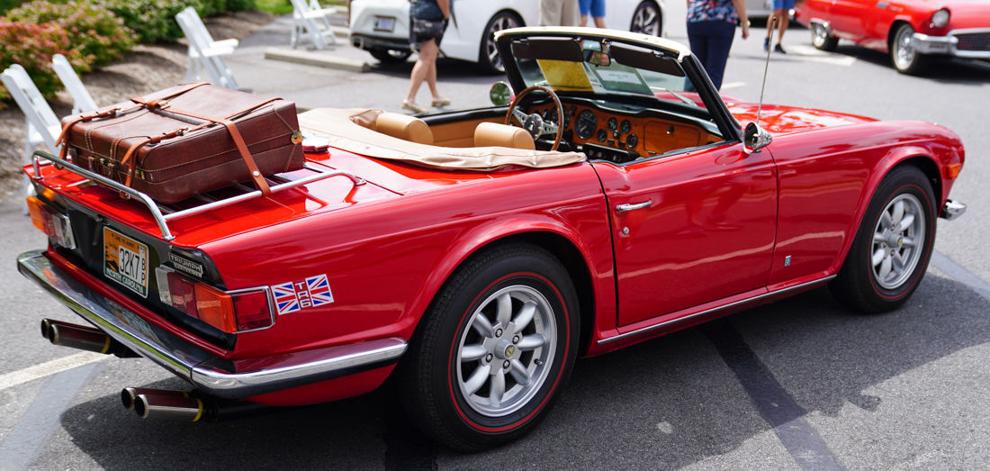 "It is pretty. It is beautiful, but not really practical. It has a 45 horsepower, air-cooled motor in the back that will have it doing about 95 miles per hour, which is fast for only a 45 hp engine. It really is an interesting car," Perry said.
Also on display by arguably Blowing Rock's most serious collector was a 1948 Volkswagen Karmann Ghia. It has the same rear engine, air-cooled power train that the Porsche has, but just 36 horsepower. So it is a little less powerful, conceived as a sporty version of a Volkswagen in the mid-1950s.
"The 'Beetle' was taking off in popularity at that time and they kept exhorting Heinz Nordhoff, the guy running Volkswagen, to design a different car. He said as long as I have a huge backlog of orders for Beetles, I am going to keep building them. But taking the advice of a coach builder named Karmann, who secretly had a design studio called 'Ghia' in Italy, Nordhoff did this other version of a Volkswagen. It is a sporty, sleek Italianeque version of a Volkswagen from 1958, and it is called a Karmann Ghia," said Perry.
Upon viewing Bo Henderson's 1965 Rolls Royce "Silver Cloud III" and learning that it once was owned in Southern California during what were arguably the golden years of Hollywood, it is hard not to let an imagination run amok.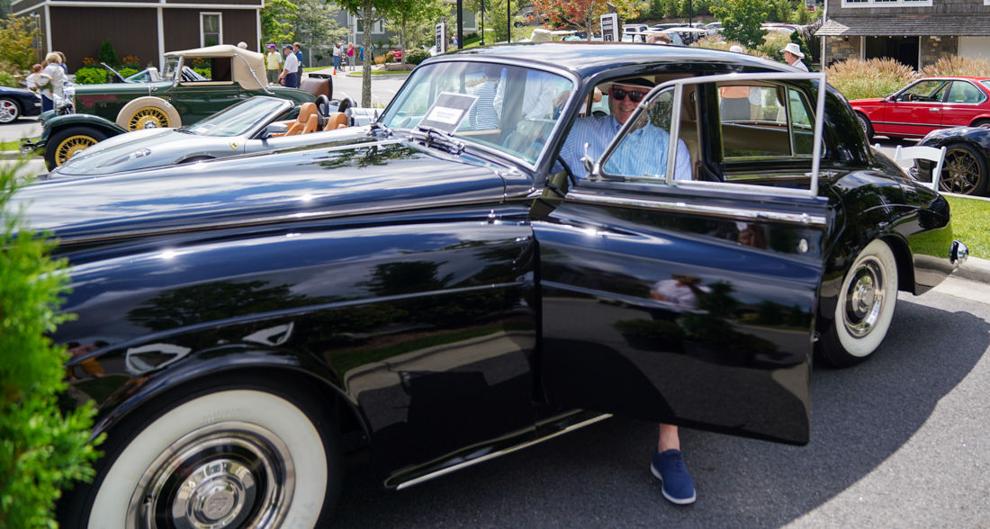 "This car is one of 2,043 cars of the Silver Cloud III series built from 1962 to 1965. I am the third owner," said Henderson. "The first owner was in Southern California and was in a collection for 40 years. The second owner had it for 15 years. I know when it was owned but not who owned it. There are less than 70,000 original miles on the odometer. The leather has been repaired in the driver's seat only. Everything else, the carpet, the headliners, the other seats, are original. It even has its original tool kit, the jack and such, in the back."
The successful, Charlotte-based interior designer said he has all the records as to the car's maintenance but does not know anything about the previous owners. It was always in a garage in Southern California, he said.

The imagination of an inquiring mind races through names who might have cruised Sunset Boulevard in the Silver Cloud III to the Oscars, or down Hollywood Boulevard to a grand movie premiere. Elvis Presley? Paul Newman? Barbra Streisand? Audrey Hepburn? Sophia Loren? Doris Day? Elizabeth Taylor? Cary Grant? Rock Hudson? Jerry Lewis? The Beach Boys?
It is easy to get carried away in speculation. Surely America's cowboy and military action star, John Wayne, wouldn't be seen in such a lavish ride, but what salacious tales of Hollywood romance and lust were carved into the back seat, the mobile equivalent of the infamous "casting couch"? Or was it simply a luxurious way to get around for one of the many successful business executives of the time?
"Someone said they found a picture of Lucille Ball's car that she bought from Debbie Reynolds and it was, in fact, the car that Lucille Ball sold to Reynolds, but it could not have been this car. It had slanted, double headlamps that Rolls had on their convertibles. People make up stories, but I would rather deal in facts. The fact is, this is mine and I don't really have any passion or curiosity for who had it, now that it is mine, if that makes sense," said Henderson.
Henderson said that he takes it out on sunny days every week or so, but especially enjoys driving it over to Appalachian State football games at Kidd-Brewer Stadium.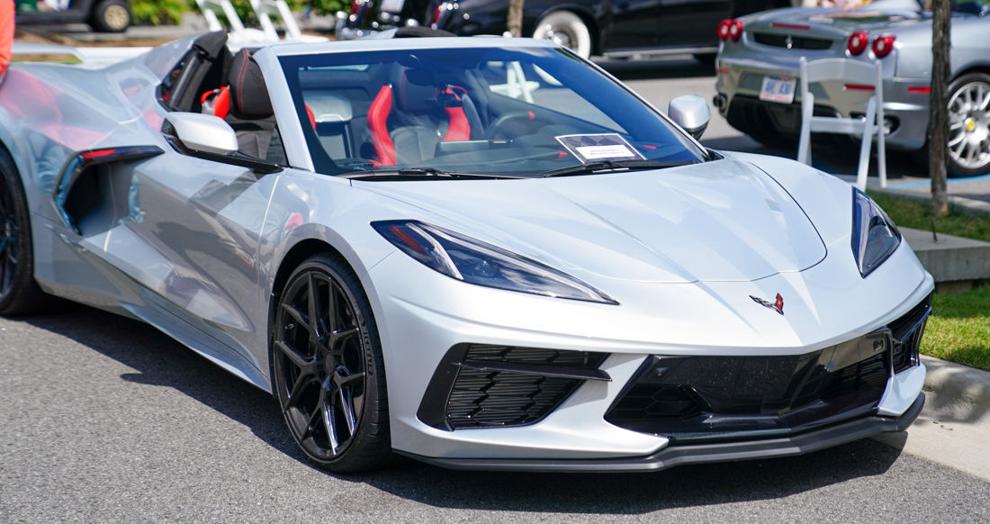 Longtime BRCC club member Len Capel brought another historic classic to the car show.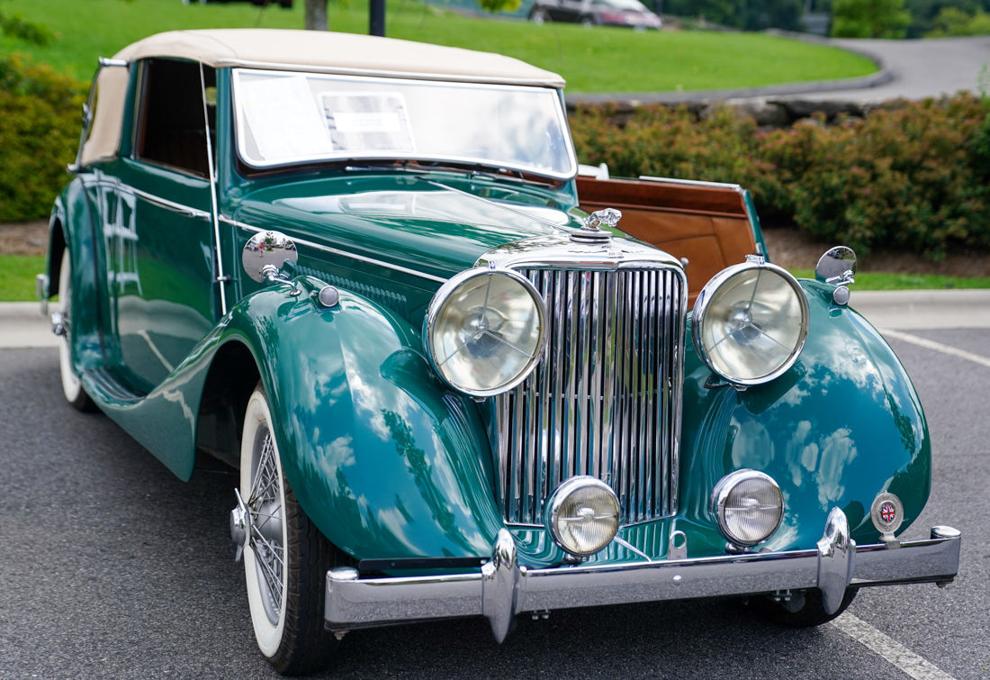 "This is a 1948 Jaguar made from the 1930 body style. Jaguar made the 1930 models up until 1939 and World War II, but with the war with Germany the plant was converted to making Spitfire airplanes for the Royal Air Force. After the war was over, they started making the Jaguars again. They called the new models, the Mark IV series. They made about 200 of the convertibles and about 200 of the sedans. They later changed from this car to the newer, more contemporary models. I have had this car for a couple of months now and am showing it for the first time here at Blowing Rock," said Capel.
Capel said that his car was originally made for the British ambassador to Switzerland, in 1948.
Most of the cars in the show had stories, even the new 2021 Mid-Engine Chevrolet Corvettes whose sleek, contoured lines have them looking more Italian than anything, resembling the aerodynamics of Maserati and Ferrari — but at a relative fraction of the price.
Without question, the Sept. 4 member car show at BRCC had some eye-poppers, even among what car aficionados call, "30-footers." From a distance of, say, 30 feet, they look tremendous but as you get closer the restoration looks "tired," with paint chipped or fading around the edges or seats and headliners showing the wear and tear of someone enjoying the car's utility, not just as a showpiece.
While many of the cars in the show were imports, dominated by brand names like Porsche, Volkswagen, Jaguar, and Triumph, there were a few classic American-made cars, too. There was no finer representation of that than a green Chevrolet Cabriolet from the 1930s, in addition to more recent vintage Corvettes.