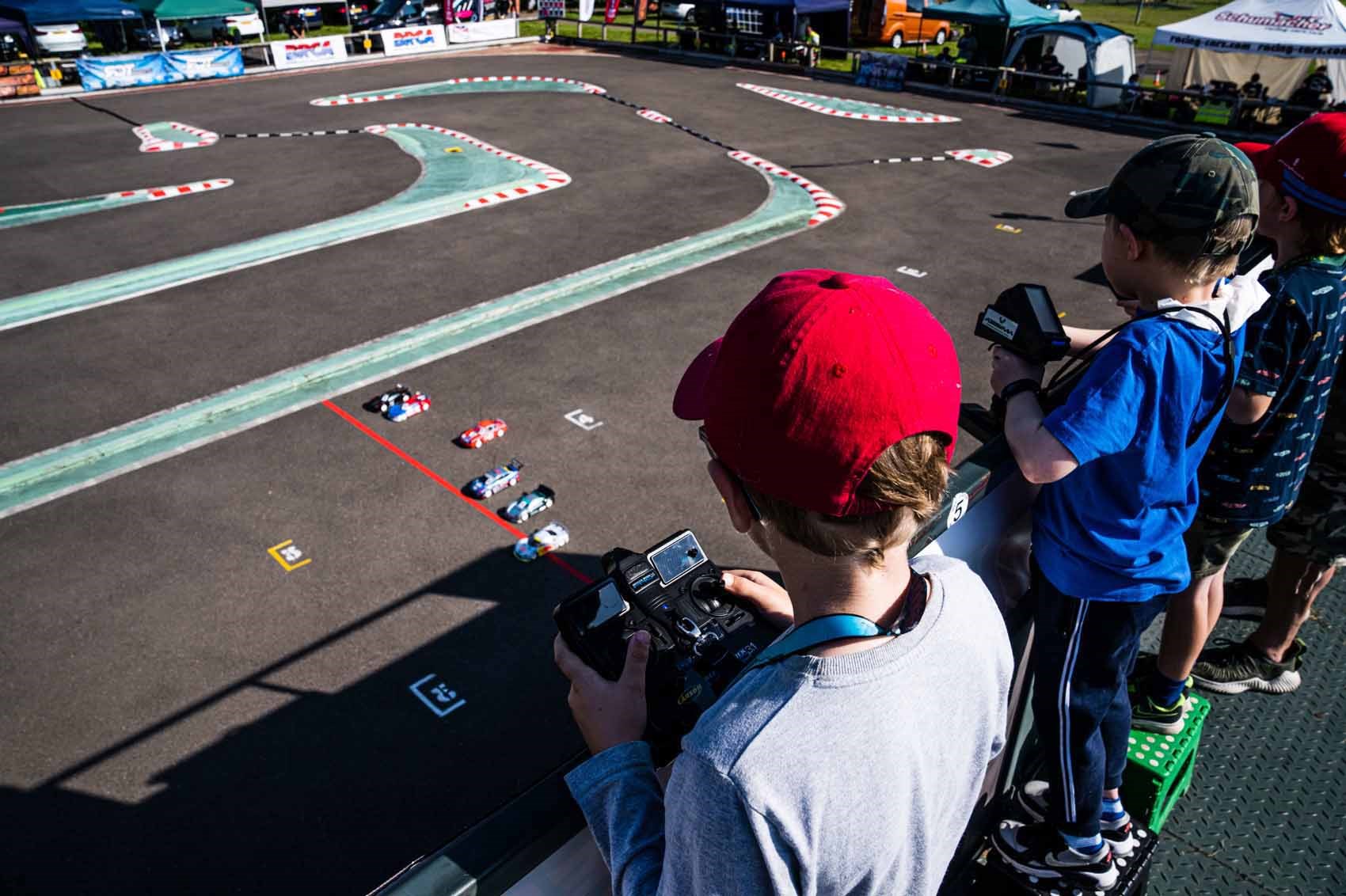 Tamiya Junior E: one-tenth scale, ten-tenths pace
► RC racing for newbies 12 and under
► Tamiya TT-02 chassis only
► CAR dons its 1/10th scale race suit
If you've passed on your love of fast cars to your kids then it won't be long before you're researching 'grassroots motorsport'. You know the kind of thing – karting, autotesting, hill climbs – an entry-point for young drivers to develop skills, showcase their natural talent and eventually be spotted by F1 scouts.
Trouble is, while most can rightfully claim to be grassroots in terms of accessibility, they're still too expensive for a lot of people to take part in, let alone be competitive. We're talking turf here, but it's the kind you'd find on a PGA Tour golf course rather than at Homebase.
Scale down the car though and you can scale down the costs – and a new race series supported by model company Tamiya called Junior E has been launched with the aim of opening up the challenging and rewarding hobby of RC racing for drivers under 12 years of age.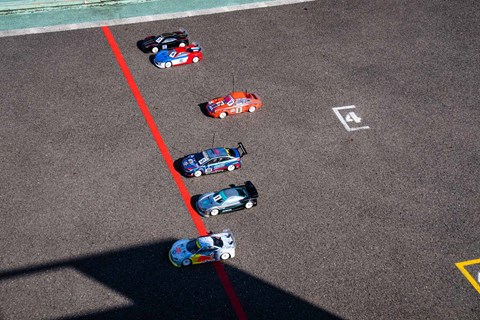 It costs £400 for a season's racing, which is less than sim racing, and most of that is set up cost that you won't have to repeat in your second year. So the father (34) and son (6) team of Scuderia Binnie was dispatched to see whether this was the entry level motorsport format of our dreams. Let's go racing!
Jump to…
Junior E (organised by King of Clubs) is all about removing boundaries to so if you just want to dip your toe in, there are arrive and drive cars you can borrow before committing. Plus there's always the chance that you've got a Tamiya TT-02 chassis already – sales of RC cars have boomed during lockdown, in which case it'll need minimal modification to go racing.
Otherwise you'll need a new kit and associated radio bits (speed controller, transmitter, servo and battery) costing roughly £230. Then you'll want to add £50 for a battery charger and tools – although the ones you use to build the car will be more than adequate to start off with.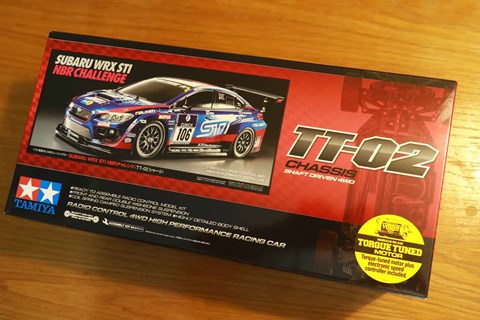 That leaves £50 for paint and a few of the allowed mechanical upgrades, but you could do this on an absolute shoe-string at first with a basic paint job and no extra parts. 
Racing-specific stuff like a set of sticky tyres (£25) and a transponder so your laps get timed (£50) will come next (although you can borrow the latter), plus BRCA membership (£20), which you should get if only so you're insured against crashing your car into someone's leg. Races typically cost £15 to enter and then there's travel costs to consider, but that's the same with anything.
That'll get you on the start line and because Junior E is a controlled chassis series, that's also enough of an investment to be competitive too. The idea is to celebrate driver skill rather than the parent's technical ability or wallet size.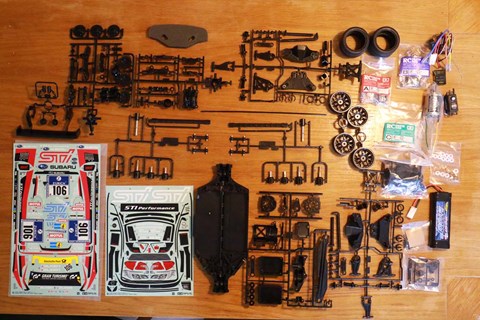 At the very sharpest end of the grown-up grid (the modified class of RC cars) the cars cost £1,000, and there are cheaper formats for adults in between. It's worth bearing this in mind because as a parent you will almost definitely start eying up the potential of going racing yourself.
How hard is the Tamiya TT-02 to build?
Anyway, let's not jump ahead, because before you take part you need to build the car. I appreciate this adage is as hackneyed (as it is useless in this scenario seeing as we've never met) but if I can manage it, so can you. The instructions are super clear and easy to follow – if you've built a big Lego kit or IKEA flat pack, you will be fine.I finished the chassis in one afternoon with some help from the boy of course. The shell took a bit longer (for reasons we'll get to) but realistically if you get up early and plan a simple paint job, you could do the whole thing in a day.
The chassis itself is made of plastic for the most part and assembled with crosshead screws (save for a few components that use hex nuts) so you need at most six tools, and that's including a pair of scissors for cutting the parts out and a craft knife to trim any spurs off.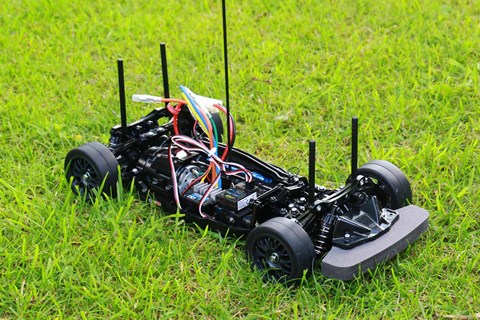 Ideally you want to get the driver involved in the process as it's a great way to show them how the various components work together – the diffs, steering arms, suspension, and encourage an interest in STEM, but don't expect them to sit through the whole build if they're little and don't be afraid to let them tackle complicated-looking bits either. Mine built the suspension components without any input from me.
The electrics was the only part of the job I was most nervous about, but it's really simple. You just need to plug the servo and speed controller into the receiver box, and the motor into the speed controller. Then find a tidy way of zip-tying all the wires.
I reckon the biggest pitfalls come from not reading the instructions clearly, putting too much grease on things and over-tightening the screws. The only major mistakes we made were putting the front lower wishbones on the rear, and vice versa, which was annoying but easily fixed.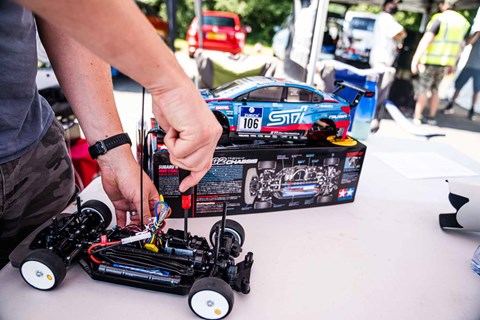 Overall it's incredibly satisfying and rewarding process watching a few flat sheets of plastic components build up into a real working car. Plus, then when something breaks during a race, you'll know instantly how to fix it.
As you can see from the pictures, our kit came with a Subaru WRX STI endurance racer shell, which I was incredibly excited about, in the way people who don't know what they've let themselves in for often are.
It looks epic, and it was really fun to make, but it's probably sensible to consider a simpler shell with one colour and a few stickers. It's going to spend a fair bit of time taking chunks out of other cars, or flying through the air after launching over a kerb, or piling headfirst into a crash barrier. You want your driver to enjoy racing, not worry about the damage their doing to a bodyshell you poured hours into decorating.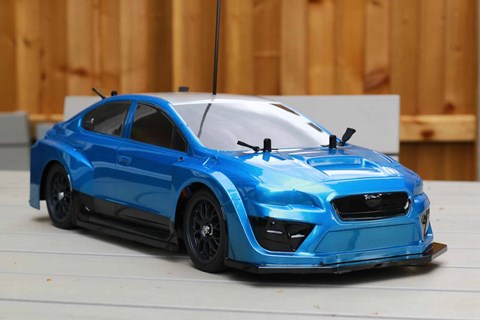 In fairness it wasn't particularly hard to make, but it was quite time consuming. I bought five rattle cans of paint (blue, black and silver for the body, smoke effect for the windows and a different black for the wing and door mirrors) which cost about £35 in total, and with hindsight sinking that cash into mechanical upgrades would have been a better investment.
The windows are protected during painting with printed stickers that come with the kit, but after that it's up to you to mask off the other areas. I had to mask the lower area of the car where the black went, and around the roof before it was painted silver, and this process alone took a couple of hours.
Painting took half a Sunday while the various coats dried, and then stickering took the rest of that day plus three evenings. There are 107 stickers in our kit – I'm told by my colleague Alan Taylor-Jones that this is a lot.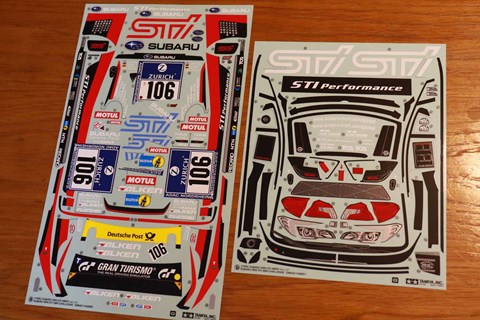 Cutting them all out and putting them in the right place turned out to be a really peaceful and stress-relieving process, but that could just be me being weird.
Although everyone uses a controlled chassis, there is a list of acceptable Hop Up parts you can fit that will survive scrutineering. I didn't use all of these on the basis the car was unlikely to be the limiting factor in our lap times (gearing doesn't matter one bit when the car's on its roof) but there are a few things worth considering for a durability and driveability point of view.
First up was a full set of ball bearings (you want these with any Tamiya build, £15) which replace the plastic bushes in the kit and a high torque servo saver (£17) for more precise steering. We also got the upgraded oil filled dampers (CVA super mini set – £17) for a more stable ride. Junior E has a specific final drive so you'll need a different spur and pinion to achieve this.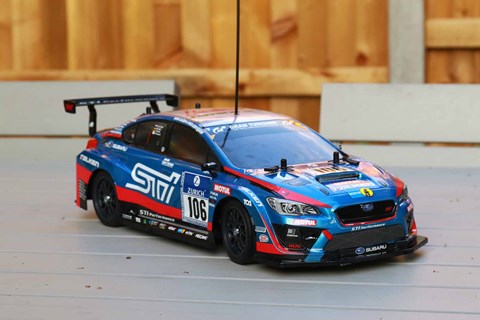 In time I'd like to add the on-road tuned suspension springs (you can see a bit of bodyroll in the pictures) and the adjustable turnbuckle links for steering and tie rods, just to get it running in a perfectly straight line. We had a few crashes on race day due to the fact the driver was fighting the steering trim on the main straight.
I should add I've never made a Tamiya kit before – all of the above is knowledge I've attained from YouTube or talking to the other parents on race day. My advice would be to get a set of ball bearings to start with (they're easier to install while you're building the car than after) and then just go racing. Upgrades can be added with time.
Absolutely brilliant – the power delivery is super smooth and the steering very fast, with a tonne of grip from the all-wheel drive chassis and stable cornering thanks to its stiff tub construction and oil-filled dampers. All the traits of a full-sized car are there for you to experience in scale – understeer, lift-off oversteer, weight transfer on the brakes and gas, etc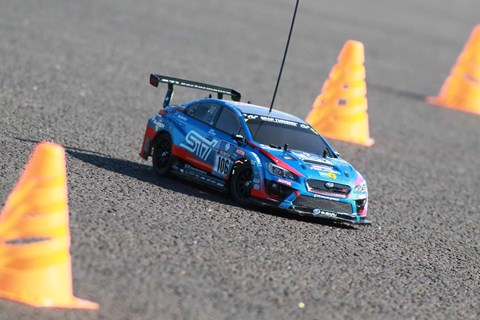 I took a couple of attempts to get the body height correct and I ended up putting an extra shim in the shocks to improve stability under braking and stop the chassis grounding out.
Before race day we spent a couple of hours in an empty car park getting used to the transmitter – I got one with sticks instead of a wheel like my son is used to, so that took a bit of acclimatising to, and we even took some mini traffic cones with us to create a slalom and sweeping corner for him to practise on.
You might want to upgrade to Lipo batteries eventually as they're more powerful for their size and faster to charge, but our six-cell NiMH battery lasts ages and isn't as fussy to charge or store as a Lipo. We've got two so one can be on charge during the race while the other is in the car, and that seems to work just fine.
There are five rounds in 2021 (Aldershot on May 16, Eastbourne on June 6, Colchester on June 27, WLRC on July 18 and Adur on August 15) and entry for each one costs £15, or £60 for the series.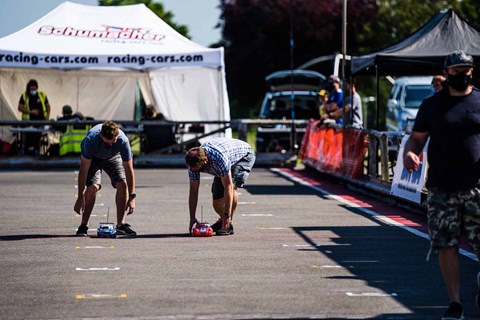 We attended the July leg in Uxbridge and I'll be honest, I didn't get much sleep the night before. My son had been extremely excited to take part and I was up whatiffing until about 3am. What if two batteries weren't enough? What if I hadn't done all the screws up properly and the wheels came off? What if the steering trim gets knocked out and he crashes full pace into the wall?
It's a full day of racing, which meant an early start to get to the driver's briefing and track walk at 8am – essential for new competitors like us to get a handle on the format and which kerbs to avoid (basically all of them).
For a six-year-old driver, the schedule basically looks like seven, five-minute drives around the track. The first is a practice, the next four are qualifying heats, and then there are two finals.
The timed format means everyone races for the same length of time – so there are no worries about trundling in two minutes behind the rest of the grid while the front runners are already up on the podium doing shoeys of Ribena. This is quite important for keeping confidence levels high.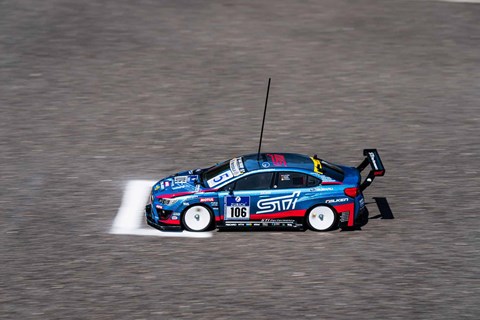 As a parent of a junior racer you'll also be expected to marshal some heats and finals, but this is as simple and standing at a certain point on the track and rescuing stuck cars or putting them back on their wheels. Everyone pitches in here and I was amazed and humbled to see parents of fellow competitors rushing to flip our car over or in one instance actually pop one of the driveshafts back in so my son could continue racing.
Given my son was on the younger end of the driver spectrum (although not the youngest) I was a bit concerned about how he'd get on, but I needn't have worried. Not only is the Junior E family incredibly warm and welcoming, but the racing is pretty relaxed too. There are still rules of course but for the most part the Rookie class drivers were just left to get on with it, and have as much fun as possible.
Only the two fastest qualifying heats count towards your overall grid position in the final, so although consistency is important, you don't win or lose on the result of one bad race. I told my son to go slow and learn the track for P1, Q1 and Q2, before turning up the heat for the last two quali sessions and finals, given that this was his first time.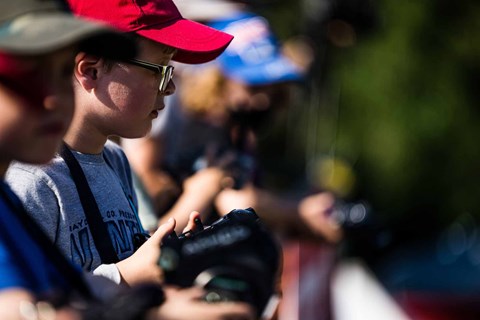 In reality he spent the first session learning his way around and then did what all of us would do when handed a high-performance racing RC car on a thrilling track filled with competitors, and just went flat out. This resulted in some moments of genuine pace, carrying speed from the straight into the long sweeper of turn one, and negotiating the tricky series of tighter corners thereafter, and also some spectacular crashes.
Throughout the day the car held up brilliantly – the bottom of the chassis picking up some paint and scars from being slid across kerbs, and the body shell shaking off knocks that would force a real racer into early retirement. I have since cut off the front splitter, which was an optional inclusion anyway, and meant we couldn't run the car as low as we wanted without it dragging. 
Despite some fairly brutal contact with various crash barriers and other cars, the only parts I've replaced are a front lower wishbone and steering link. The front driveshafts popped out a few times during racing but this is quite common and more to do with the somewhat heavy-handed driving style than the strength of the chassis. They're also pretty easy to pop back in.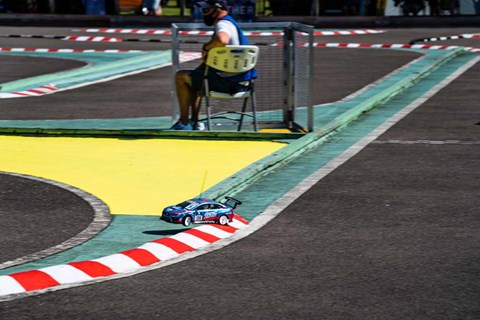 But in theory that's as bad as it's going to get, because as my son's ability to keep all four tyres on the ground improves the breakages will diminish too. I reckon that's an acceptable ongoing cost.
As you can probably tell from the length of this article (assuming you've got this far) we had an absolutely fantastic time in Junior E, from the very first screw going into the TT-02 chassis to the end of the race day when we all sat exhausted in the car with the air conditioning on full blast. My son told me it was his best day ever and even took his trophy to school to show his friends, so it won't surprise you to hear we've signed up for the next leg.
It is, at its core, a race series designed to get young drivers into RC racing, and the success of that depends a lot on the people involved, who were all brilliant. But I don't think they'd mind if I said the sport in general can seem intimidating to newcomers. It looks complicated and expensive and that can be off-putting, so breaking down those misconceptions is priority one for Junior E.
And it does so it lots of subtle ways – the juniors are treated exactly the same as senior racers, it's not a sideshow or warm-up series for the main event, but a serious and legitimate race of its own. As such it gets covered by the same TV cameras (you can watch the race live or afterwards on YouTube) and receives its own detailed race report full of praise for the exploits of the young drivers.
At one point former RC racing world champion Marcus Askell took time out of his day to stand on the rostrum and coach my son during one of his quali heats. Bear in mind Marcus was there to race himself, and we were far from the only team he did this for. Nothing sums up how important the rest of the grid views the job of getting new drivers into RC racing better, really.
And that's as important for the community as it is for the drivers – our race winner Tyler Standing had previously been unable to take part in competitive sport due to a rare condition called Duchenne Muscular Dystrophy, and yet there he was on the top step of the podium, not only able to take part in the race but to absolutely school the rest of us in car control too.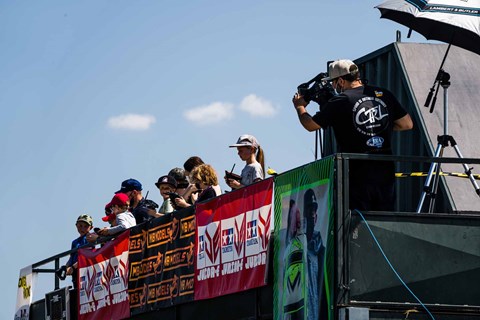 So, if you've got even a passing interest I'd say sign up and go along. Borrow a car first and then build your own. You'll be fully supported by the RC community, whether it's with table space in the pits or generator you can use to charge your batteries, or help with wrenching when things go wrong or break. It's also an incredibly inclusive sport – boys and girls of all ages and abilities can take part, with the only metric being how much fun you have and ultimately how fast you can drive. See you at the next race!
– Photography by Malcolm Griffiths